Site Map
XML
---
NAVIGATION MENU
---
Home
Officiant & Elopement Packages
Wedding Venues & Locations
Online Wedding Scheduler
Marriage License Requirements
Marriage Licensing Offices
Wedding Photo Gallery
Testimonials, Cards & Letters
About Us
Wedding Planning and Eloping Resources
Online Payments
Contact Us!
---
ARTICLES
---
News: Romance in the Spotlight

Planning Your Wedding: From Elaborate to Elope!

Sample Ceremonies & Vows

Writing Your Own Wedding Vows

Including Children in Weddings

Wedding Gift Traditions & Trends

Cruise Ship Weddings

Why Choose New Orleans for Destination Weddings?

New Orleans: Current Cultural Trends

---
New Orleans Events:

Festival season is year-round! Check out the links below for upcoming New Orleans events that might correspond with your wedding plans.
Allstate Sugar Bowl in January

Carnival Season begins January 6 and continues until Mardi Gras

Tennessee Williams Literary Festival in March

French Quarter Music Festival in April

Zurich Classic Golf Tournament in April

New Orleans Jazz and Heritage Festival in April and May

New Orleans Food and Wine Experience in May

Essence Music Festival in July

Satchmo Summerfest in August

VooDoo Music Festival in October

Holiday Season's Annual Celebration in the Oaks Beginning the day after Thanksgiving throughout holiday season.

---
CONTACT:
Samantha McGovern
P.O. Box 24568
New Orleans, Louisiana, 70184
USA
(504) 214-0610
info@romanceinneworleans.com
---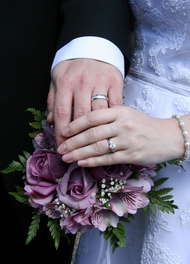 Please BOOKMARK our website so you can find us again and we can save money on pay-per-click advertising fees when you return.
Thank You!

---
Artillery Park (Washington Artillery Park)

Google Map

Artillery Park is located between Jackson Square and the Mississippi River. It is a popular place for tourists, as it offers a great vantage for photos of both. While it can be busy and noisy on the weekends, it's great for small ceremonies, and the Cathedral as a backdrop gives a story-book look, and the passing carriages, streetcars and paddle-wheelers offer additional charm. Centrally located, and walking distance from many hotels, you can hop in a buggy for a romantic, post-wedding ride to your reception or celebration dinner.




Audubon Park (St. Charles side of Park)

Google Map

Located in the historic Garden District between Tulane University and the Zoo, Audubon Park offers a wide variety of venues for your wedding. Moss-draped oak trees surround sleepy lagoons where swans, ducks and geese glide by. On the St. Charles side sits a majestic fountain ringed by a garden. The Magazine Street side offers a stone pavilion and patio. Several shelters with picnic areas are scattered through the park, and can be reserved for a fee for large parties.




Audubon Park (Magazine Street side of Park)

Google Map




City Park

Google Map

One of the oldest and largest urban parks in the country, City Park is the home to the largest collection of mature Live Oaks in the world. Next to the New Orleans Museum of Art, you will find romantic bridges that have become a favorite place for couples to begin their lives together. Nearby, you will find Popp's Bandstand and the Peristyle. Several grand venues, such as the Botanical Gardens are available for rent.




Piazza d'Italia

Google Map

Next to Lowes Hotel is the Italian Plaza. The Romanesque architecture and fountains make for a classical wedding site, and the colorful arches and grand columns offer dramatic photos. The American Italian Renaissance Foundation Museum and Library resides next door.




Plaza de España

Google Map

A Bicentennial gift from the country of Spain, Spanish Plaza is located on the Mississippi River next to the Riverwalk. The beautiful fountain is surrounded by benches bearing tiles that represent all of the Spanish provinces.




The Moonwalk

Google Map

Named after former Mayor, Moon Landrieu, (not Michael Jackson's dance) the Moonwalk runs between the Mississippi River and Woldenberg Park from the Gov. Nicholls Wharf to the Riverwalk. As it passes Artillery Park, there are some steps that lead down to the river. Some couples have chosen this as their "Jumping Off" spot to start their relationship.




Jackson Square

Google Map

A statue of the hero of the Battle of New Orleans, Andrew Jackson, dominates the middle of the park. Surrounded by St. Louis Cathedral, the Cabildo, the Presbytere, and the Upper and Lower Pontalba Apartments, the manicured gardens have seen many historic moments. Owned by the New Orleans City Dept. of Parks and Parkways, a minimum usage fee of $250 is required for weddings in the park. Park hours are seasonal and subject to change -- Winter: 8 am to 5 pm; Summer 8am to 7pm; 7 days a week except for special events. Visit the City of New Orleans web site for more information.




Courtyards

Many local hotels and B&B's have romantic courtyards that are available for weddings. Some facilities don't charge extra for their use, depending on the size of your wedding party, whether or not you are a guest, and how much extra is involved. Check with the sales departments, and/or owners for specifics.

Restaurants

New Orleans is full of restaurants, from world-class, to the mom-and-pop operations. Many have private rooms that are available for ceremonies and receptions. These make for great all-in-one locations, especially if you have a favorite. Again, check with the owners/operators for specifics regarding their policies.


I will be happy to offer recommendations, simply email me for more information, or go to the Helpful Links page for more ideas.
---