NAVIGATION MENU
---
Home
Officiant & Elopement Packages
Wedding Venues & Locations
Online Wedding Scheduler
Marriage License Requirements
Marriage Licensing Offices
Wedding Photo Gallery
Testimonials, Cards & Letters
About Us
Wedding Planning and Eloping Resources
Online Payments
Contact Us!
---
ARTICLES
---
News: Romance in the Spotlight

Planning Your Wedding: From Elaborate to Elope!

Sample Ceremonies & Vows

Writing Your Own Wedding Vows

Including Children in Weddings

Wedding Gift Traditions & Trends

Cruise Ship Weddings

Why Choose New Orleans for Destination Weddings?

New Orleans: Current Cultural Trends

---
New Orleans Events:

Festival season is year-round! Check out the links below for upcoming New Orleans events that might correspond with your wedding plans.
Allstate Sugar Bowl in January

Carnival Season begins January 6 and continues until Mardi Gras

Tennessee Williams Literary Festival in March

French Quarter Music Festival in April

Zurich Classic Golf Tournament in April

New Orleans Jazz and Heritage Festival in April and May

New Orleans Food and Wine Experience in May

Essence Music Festival in July

Satchmo Summerfest in August

VooDoo Music Festival in October

Holiday Season's Annual Celebration in the Oaks Beginning the day after Thanksgiving throughout holiday season.

---
CONTACT:
Samantha McGovern
P.O. Box 24568
New Orleans, Louisiana, 70184
USA
(504) 214-0610
info@romanceinneworleans.com
---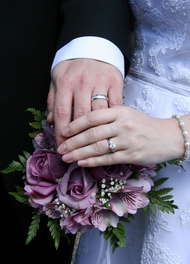 Please BOOKMARK our website so you can find us again and we can save money on pay-per-click advertising fees when you return.
Thank You!

---
Including Children in a Wedding
When couples who have children from a previous marriage are wed, many want to include them in the ceremony and reception. In this article I will discuss children's vows, and different ceremonies that are kid-friendly, and ways to make them feel special at the reception. When dealing with children in a formal setting, you must take many things into consideration. Among these are age, personality, and what will be asked of them in their role in the wedding. Some kids handle the spotlight better than others, but most always they end up stealing the show.

Flower Girl and Ring Bearer:

Traditionally the ring bearer and flower girl are young children, and if the kids in question suit these roles, it is a good way to have them present at the altar. When the time comes for their participation, any other children to be involved can come forward, or be bought to the altar by other family members.

Children's Vows:

Children's vows usually take place toward the end of the wedding, after the ring exchange. They can be simple worded vows, spoken by the parents alone if the children are very young, or be participatory, involving everyone. They should include a promise to love, nurture and support them, and make them feel that they are an important part of the new family. Some couples like to give the kids gifts, like jewelry in the form of a family medallion, as a symbol of their new family bond.

When it comes to participatory ceremonies, I've had weddings where the children were involved in the lighting of the unity candle, but would only suggest such for older children who could safely handle fire. For young ones, a sand ceremony is the most practical and safe. In it, different colors of sand are poured from smaller vessels into a larger one symbolizing the blending of the individuals into a single family. You can find the necessary ingredients at most arts and craft stores.

Choosing the wording for your particular ceremony should reflect your unique situation as a new family. Every child should feel equally involved, loved and special. I will give sample ceremonies at the end of this article.

Kid's Table at the Reception:

Wedding receptions can be busy, chaotic times that can make children feel neglected. To make sure that they feel like part of the party, a special children's section, with a table of special treats, toys and games can make a big difference. When choosing toys, keep it simple and cheap, and don't get anything that has to be thrown or swung! Bubbles keep kids entertained nicely, and give a festive air to the occasion. A special cake and kid-friendly food like hot dogs and hamburgers make a simple alternative to the fancy stuff the adults like. Let them know that they are a part of the celebration too.

Below you will find some samples from ceremonies I have performed for ideas for your special day.

The Sand Ceremony #1:
(Bride) and (Groom), today you are making a life-long commitment to share the rest of your lives with each other and honor your children as well. Your family relationship is symbolized through the pouring of these individual containers of sand; one representing you (Bride), and all that you were, all that you are, and all that you will ever be, one representing you (Groom), and all that you were, all that you are, and all that you will ever be.

There are children who will share in this marriage; (Child), (Child), and (Child). Each child who will share in this marriage will also pour an individual container of sand. The gathering of this new family will have a deep influence upon them. We realize that in order for the home to be a happy one, it is essential that there be love and understanding between the children and the adults being married. As you each hold your sand, the separate containers of sand represent your lives to this moment; individual and unique. As you now combine your sand together, your lives also join together as one family.

You may now blend the sand together symbolizing the uniting of the children and the bride and the groom into one. Just as these grains of sand can never be separated and poured again into the individual containers, so will your marriage and your family be.

Sand Ceremony #2
(Groom) and (Bride), may your love always be as constant as the never-ending waves, flowing endlessly from the depths of the sea. Just as the waters touch and nourish the many shores of the earth, may your love be a moving sea between the shores of your souls. Just as there will never be a morning without the ocean's flow, there will never be a day without your love for each other. You have just sealed your relationship by the giving and receiving of rings. This beautiful union is symbolized through the combining of these two individual containers of sand. The first container represents you, (Groom), in all that you were, all that you are, and all that you will ever be, and the other container represents you, (Bride), in all that you were, all that you are and all that you will ever be. Each one holds its own unique beauty, strength, and character. They can stand on their own and be whole, without need of anything else. However, when these two are blended together they create an entirely new and extraordinarily more intricate entity. Each grain of sand brings to the mixture a lasting beauty that forever enriched the combination. Please pour the sand into this common container to symbolize the union of your two lives. Just as these grains of sand can never be separated and poured again into the individual containers, so will your marriage be a molding of two individual personalities, bonded together forming one heart, one love. The life that each of you experienced now, individually, will hereafter be inseparably united, for the two shall become one.

Children's Vows:
Do you (Groom/Bride) take (Child) as your own, promising to love him and care for him, providing for his needs, both physical & spiritual.
Groom/Bride replies: We will.
Do you (Child) accept (Groom/Bride) into your family? Do you promise to love and respect him/her as your step father/step mother?
Child replies: I do.

Words to Include Children:

____________and ____________ today you are promising your love to one another, but you are also pledging your love to your children as well, committing to them that you will create a family together. __________ (children's name) your parents would like to present these gifts to you as a symbol of their commitment, trust and love.

Remember it's YOUR wedding and YOUR family! Be creative!

Wedding Preparation
Check- List:

01. Wedding Location (free or fee)

02. Carriage Ride to and from Ceremony

03. Bridal Bouquet and Groom's Boutonniere

04. Music

05. Champagne or Sparkling Cider and Souvenir Glasses

06. Wedding Cake w/Plates, Napkins & Utensils

07. Professional or Snapshot Photographer

08. Restaurant Reservations

09. Hotel Reservations

10. Marriage License

---