NAVIGATION MENU
---
Home
Officiant & Elopement Packages
Wedding Venues & Locations
Online Wedding Scheduler
Marriage License Requirements
Marriage Licensing Offices
Wedding Photo Gallery
Testimonials, Cards & Letters
About Us
Wedding Planning and Eloping Resources
Online Payments
Contact Us!
---
ARTICLES
---
News: Romance in the Spotlight

Planning Your Wedding: From Elaborate to Elope!

Sample Ceremonies & Vows

Writing Your Own Wedding Vows

Including Children in Weddings

Wedding Gift Traditions & Trends

Cruise Ship Weddings

Why Choose New Orleans for Destination Weddings?

New Orleans: Current Cultural Trends

---
New Orleans Events:

Festival season is year-round! Check out the links below for upcoming New Orleans events that might correspond with your wedding plans.
Allstate Sugar Bowl in January

Carnival Season begins January 6 and continues until Mardi Gras

Tennessee Williams Literary Festival in March

French Quarter Music Festival in April

Zurich Classic Golf Tournament in April

New Orleans Jazz and Heritage Festival in April and May

New Orleans Food and Wine Experience in May

Essence Music Festival in July

Satchmo Summerfest in August

VooDoo Music Festival in October

Holiday Season's Annual Celebration in the Oaks Beginning the day after Thanksgiving throughout holiday season.

---
CONTACT:
Samantha McGovern
P.O. Box 24568
New Orleans, Louisiana, 70184
USA
(504) 214-0610
info@romanceinneworleans.com
---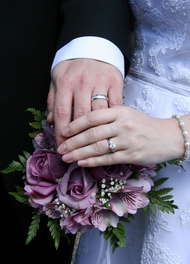 Please BOOKMARK our website so you can find us again and we can save money on pay-per-click advertising fees when you return.
Thank You!

---
(This is an archived article from shortly after Hurricanes Katrina and Rita in 2005.)
Be a Patriot, Get Married in New Orleans!

As you make your wedding plans, please consider coming to New Orleans. Many of the local businesses, restaurants and hotels are up and running, but due to a generally negative national media image, many are struggling to stay open. You can help reverse this catastrophic trend by coming to New Orleans. Now.

It has never been easier to get a table at one of our famous world-class restaurants, or find a great deal on a room at one of our historic hotels or B&B's. Come explore the storied plantations, take a swamp tour and hear some of the greatest music on he planet. New Orleans is also proud to be the port of embarkation for three cruise ship lines. The Norwegian Sun, Carnival Fantasy and Royal Caribbean Grandeur of the Seas are home ported here, with the Princess line right behind them, and what better city could you begin and end a cruise from? Add a few days on either end of your trip to take in the history and culture of one of the world's most romantic cities.

A great place to start planning your trip is the New Orleans Convention and Visitors Bureau (http://www.neworleanscvb.com/index.cfm). Request a Visitor's Guide, plan your itinerary, or even register to win a ride on a Mardi Gras float! Be sure to check out the events calendar to coincide your trip with one of our famous festivals. And if you have a big heart and a lot of ambition, check out the Voluntourism page.

America, I'll be frank; many of us are fighting for our lives a second time. First we were inundated by the ineptitude of The Army Corps of Engineers, and then we feel we were abandoned by our government at every level. You're all we've got left. We need you, the American People, to come to our rescue. In order to rescue us, you'll be required to eat, drink, dance, sing and generally pass a good time. You'll be asked to endure the hospitality and friendliness of a city famous for both. It will be expected of you, after sacrificing your hard earned dollars, to continue your patriotic duty by becoming ambassadors and preaching the Gospel of New Orleans to your fellow citizens. The Crescent City has risen! But you are its savior.

We look forward to seeing you. Don't be afraid to ask for directions, how to pronounce Tchoupitoulas, or which stage to go to at Jazz Fest. We'll be more than happy to oblige, and we'll thank you for coming, friends.

www.RomanceinNewOrleans.com

---
VIDEOS OF NEW ORLEANS!
Several videos are available below. Some might not be relevant to our website or your wedding, but you can make a selection from the video player's "menu" button below. There are some great ones! Enjoy!

---
---
---