NAVIGATION MENU
---
Home
Officiant & Elopement Packages
Wedding Venues & Locations
Online Wedding Scheduler
Marriage License Requirements
Marriage Licensing Offices
Wedding Photo Gallery
Testimonials, Cards & Letters
About Us
Wedding Planning and Eloping Resources
Online Payments
Contact Us!
---
ARTICLES
---
News: Romance in the Spotlight

Planning Your Wedding: From Elaborate to Elope!

Sample Ceremonies & Vows

Writing Your Own Wedding Vows

Including Children in Weddings

Wedding Gift Traditions & Trends

Cruise Ship Weddings

Why Choose New Orleans for Destination Weddings?

New Orleans: Current Cultural Trends

---
New Orleans Events:

Festival season is year-round! Check out the links below for upcoming New Orleans events that might correspond with your wedding plans.
Allstate Sugar Bowl in January

Carnival Season begins January 6 and continues until Mardi Gras

Tennessee Williams Literary Festival in March

French Quarter Music Festival in April

Zurich Classic Golf Tournament in April

New Orleans Jazz and Heritage Festival in April and May

New Orleans Food and Wine Experience in May

Essence Music Festival in July

Satchmo Summerfest in August

VooDoo Music Festival in October

Holiday Season's Annual Celebration in the Oaks Beginning the day after Thanksgiving throughout holiday season.

---
CONTACT:
Samantha McGovern
P.O. Box 24568
New Orleans, Louisiana, 70184
USA
(504) 214-0610
info@romanceinneworleans.com
---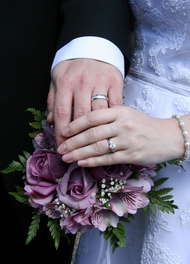 Please BOOKMARK our website so you can find us again and we can save money on pay-per-click advertising fees when you return.
Thank You!

---
BEST SELLER!

The title may sound morbid when planning a wedding, but on a lighter note during our most difficult times, our "Love Among the Ruins" story was a light in our lives.

We asked Chris Rose, Times Picayune reporter and author, to report on the impending marriage and love story between Katie, a volunteer animal rescuer who quit her job to follow her heart, which led her straight to Paul, the military man who was assigned to protect her!

The story is included in Chris Rose's new edition of "One Dead In Attic". We heard about the entry of our couple's romance recently on WWL news radio and called in to speak with Chris -- and needless to say, we hope you will buy Chris' book for many different reasons -- the pain, the healing -- the REBIRTH -- and a little amore' along the way in post-Katrina New Orleans!

Tell us what you think of Love Among the Ruins!

---
Romance in New Orleans performed the first wedding in the French Quarter after Hurricane Katrina, LIVE on Good Morning America, Sunday, October 9th, 2005!

Click here for a link to the segment!

Wedding Preparation
Check- List:

01. Wedding Location (free or fee)

02. Carriage Ride to and from Ceremony

03. Bridal Bouquet and Groom's Boutonniere

04. Music

05. Champagne or Sparkling Cider and Souvenir Glasses

06. Wedding Cake w/Plates, Napkins & Utensils

07. Professional or Snapshot Photographer

08. Restaurant Reservations

09. Hotel Reservations

10. Marriage License

---